Best Yonex Badminton Rackets of 2022
YONEX Nanoscience achieves precise control over racquet functions at the molecular level, creating ultra-lightweight racquets that are thinner, stronger and more stable than an ordinary racquet for maximum power and speed from swing energy.
Selecting the correct racquet is a vital part of maximizing your potential on court. With the YONEX Racquet Matrix, you can be 100% that the racquet in your hand is the perfect choice for your game.
Make sure that your YONEX racquet is strung for optimum performance by following our precise Stringing Instructions.
We, Badminton Corner (www.badmintoncorner.com) have all these latest and best Yonex badminton rackets in stock
 #1 . ARCSABER 11 PRO
The new ARCSABER 11 is enhanced with the development concept of "decisive control". Analysis of the previous model showed potential for improvement by increasing frame stability while increasing shuttle contact time.
Frame stability is improved with a new frame structure that has a stiff build at the top and bottom of the face, reducing twisting and unwanted distortion at impact. The new CONTROL-ASSIST BUMPER is a connected grommet piece placed at the top of the frame which contains T-ANCHOR, micro-sized tetrapods, that help lock in vertical strings reducing unwanted string movement and improving accuracy.
To extend shuttle contact time, the sides of the frame, unlike the top and bottom, are softer allowing flexibility around the sweet spot. Also a new technology, the POCKETING BOOSTER is lined within the top of the frame. This inner lining is a proprietary rubber-like material that brings additional elasticity to the frame's flex increasing both shuttle hold and shuttle launch speed.
The advancements in the new model saw 6.6% increase in shuttle contact time, and 3.7% increase in smash power in comparison to the previous ARCSABER 11 (tested by Yonex).
The new ARCSABER 11 will be seen in the hands of World No.1 mixed doubles Sapsiree Taerattanachai (THA), Tokyo Olympics Bronze Medalist in men's doubles Aaron Chia(MAS), and many other elite players on tour.  
INNOVATION
ENHANCED ARCSABER FRAME
Control with confidence through this unique frame structure with varying levels of flex from top, sides, to bottom, built to increase shuttle hold while reducing instability and twisting at impact.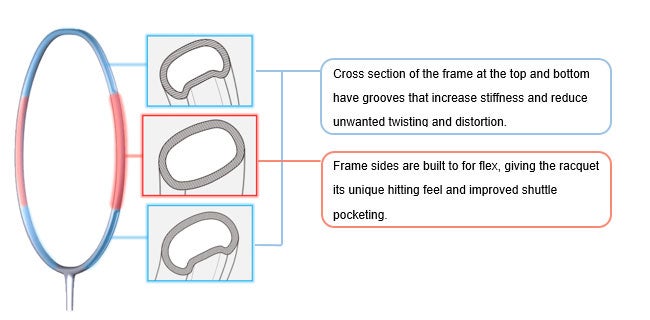 CONTROL-ASSIST BUMPER + POCKETING BOOSTER
The CONTROL-ASSIST BUMPER is a connected grommet attached at the top of the frame. This bumper contains T-ANCHOR, micro-sized tetrapods that lock onto the strings. By locking onto the strings, unwanted string movements are reduced to improve accuracy.

The top of the frame is lined with POCKETING BOOSTER*, a proprietary rubber-like material emphasizing elasticity in the frame's flex.
*PRO & TOUR models only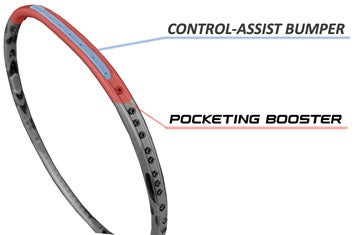 ISOMETRIC
The new ARCSABER 11 has an expanded ISOMETRIC face in comparison to the previous model. The expansion allows for a larger, more forgiving sweet spot.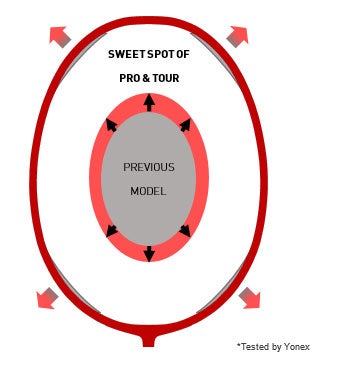 SPECIFICATIONS
PRODUCT
ARCSABER 11 PRO
MATERIAL
Frame:HM Graphite + POCKETING BOOSTER
Shaft:HM Graphite + SUPER HMG + ULTRA PE FIBER
Joint:New Built-in T-Joint, T-ANCHOR
COLOR
Grayish Pearl
FLEX
Stiff
SIZE
4U(Avg. 83g) 5・6, 3U(Avg. 88g) 4・5・6
STRING RECOMMENDATION
Hard Hitter: NBG95
Control Player: BG66UM
MADE IN
JAPAN
#2 ASTROX 99 PRO
The popular ASTROX 99 series known for generating dominating smash power, is coming out with new technology and a new look ― in collaboration with men's singles World No1. Kento Momota. The new ASTROX 99 goes a step beyond unequivocal raw power, gaining the ability to control the pace of the game. 
Like the ASTROX 88 S/D models, the new ASTROX 99 will be available to a wider audience with versions PRO, TOUR, GAME, and PLAY, designed and crafted with the same performance concept for different levels of play.
The ASTROX 99 is a head-heavy power racquet, boasting the heaviest swing weight of the ASTROX series. It's known to generate a single, powerful smash, often too heavy to be speedy in recovery. In response, Yonex worked hand in hand with Kento Momota to craft a racquet that would give him both power and the ability to convert defensive plays into offense; the result is an improved ASTROX 99 where decisive power is accompanied by extended shuttle hold for enhanced defensive shot-making.
The new ASTROX 99* is equipped with the POWER-ASSIST BUMPER, a tungsten-infused weighted bumper installed at the top of the frame transferring additional weight to the shuttle for more powerful smashes. To enhance defensive shot-making, Wide Diameter Grommets are strategically placed on the frame sides, allowing strings to shift at impact for emphasized shuttle pocketing. The iconic ISOMETRIC frame has been modified by strengthening frame corners to adjust the shape and expand the sweet spot.
*Technologies may vary between TOUR, GAME, and PLAY models.
INNOVATIONS
POWER-ASSIST BUMPER
Boosted power with a tungsten-infused weighted bumper, adding 55% more weight* than conventional grommets. The POWER-ASSIST BUMPER enhances the Rotational Generator System, quickly transferring more weight to the shuttle.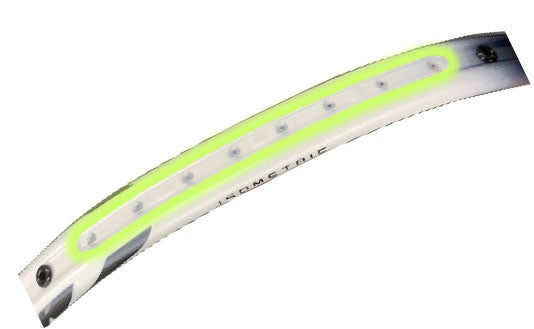 *Measured by Yonex
 Rotational Generator System
Intricate weight distribution technology designed with the counterbalance theory that allows head-heavy racquets to recover faster between shots. By employing the VOLUME CUT RESIN and POWER-ASSIST BUMPER, the new ASTROX 99 models have a further refined Rotational Generator System where intricate weight distribution can be taken to the next level.

 Wide Diameter Grommets
Control the shuttle-release timing with larger grommets designed for more string movement, extending the shuttle contact time.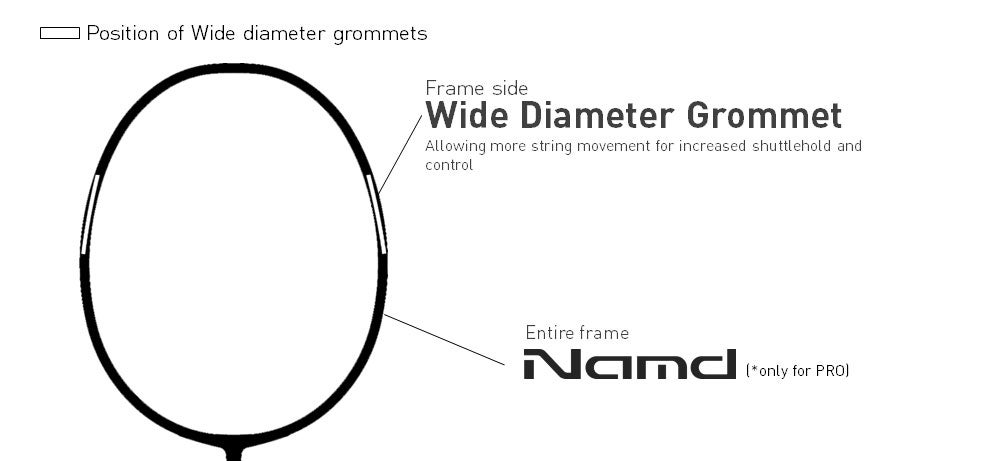 Modified ISOMETRIC frame shape
The iconic ISOMETRIC head shape is enhanced for a larger, more forgiving sweet spot. Frame sides are strategically reinforced with wider areas for a stronger construct.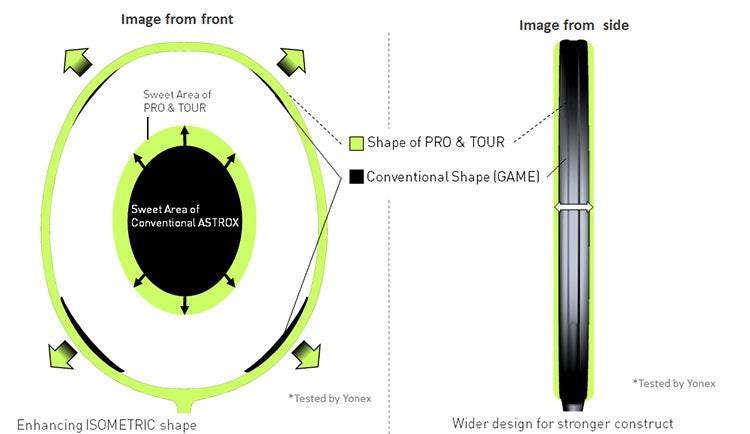 PRODUCT
ASTROX 99 PRO
MATERIAL
Frame:HM Graphite+Namd+VOLUME CUT RESIN+Tungsten
Shaft:HM Graphite+Namd
Joint:New Built-in T-Joint
COLOR
White Tiger, Cherry Sunburst
SIZE
4U(Avg. 83g) 5・6, 3U(Avg. 88g) 4・5・6
MADE IN
JAPAN
#3 ARCSABER 11 PLAY
ISOMETRIC
Enlarged Sweet Spot
ISOMETRICTM technology continues to help the world's greatest players achieve global success.
Developed over 30 years ago, the ISOMETRICTM design increases the sweet spot by 7%*. Compared to a conventional round frame, a square-shaped ISOMETRICTM racquet generates a larger sweet spot by optimizing the intersection of the main and cross strings.
ISOMETRICTM delivers greater control without sacrificing power. ISOMETRICTM is a Trademark of Yonex CO., LTD.


PRODUCT
ARCSABER 11 PLAY
MATERIAL
Frame:GRAPHITE
Shaft:GRAPHITE
COLOR
Grayish Pearl
FLEX
Medium
SIZE
4U(Avg. 83g) 5・6
STRING RECOMMENDATION
Hard Hitter: NBG95
Control Player: BG66UM