---
The acclaimed ARCSABER series designed for control is reimagined and returning to courts in February 2022. Inheriting the one-of-a-kind feeling at impact, the new ARCSABER 11 will sport enhanced playability with emphasized shuttle-pocketing for a controlled offense. Taking control of the court can come in all different forms, and for the ARCSABER, it comes from the extra few milliseconds of shuttle contact time allowing assertive, precise shot-making.
With nearly 15 years of history that saw astonishing performances from world-class athletes like Taufik Hidayat (INA), the ARCSABER series holds a unique positioning in the Yonex racquet line-up as a series defined by shuttle-hold. In 2007 when the series was first released, the ARCSABER 7 came at a time when repulsion-based racquets were the standard. Today, after years of research and development, shuttle-hold has become a key ingredient in providing confidence for an athlete and their shuttle control.
The new ARCSABER 11 is enhanced with the development concept of "decisive control". Analysis of the previous model showed potential for improvement by increasing frame stability while increasing shuttle contact time.
Frame stability is improved with a new frame structure that has a stiff build at the top and bottom of the face, reducing twisting and unwanted distortion at impact. The new CONTROL-ASSIST BUMPER is a connected grommet piece placed at the top of the frame which contains T-ANCHOR, micro-sized tetrapods, that help lock in vertical strings reducing unwanted string movement and improving accuracy.
To extend shuttle contact time, the sides of the frame, unlike the top and bottom, are softer allowing flexibility around the sweet spot. Also a new technology, the POCKETING BOOSTER is lined within the top of the frame. This inner lining is a proprietary rubber-like material that brings additional elasticity to the frame's flex increasing both shuttle hold and shuttle launch speed.
The advancements in the new model saw 6.6% increase in shuttle contact time, and 3.7% increase in smash power in comparison to the previous ARCSABER 11 (tested by Yonex).



The new ARCSABER 11 will be seen in the hands of World No.1 mixed doubles Sapsiree Taerattanachai (THA), Tokyo Olympics Bronze Medalist in men's doubles Aaron Chia(MAS), and many other elite players on tour. The racquets are schedule for a global launch on February 25th, 2022 in three different models, PRO, TOUR and PLAY – each developed with the same performance concept but with variations in performance materials used. These racquets will be accompanied by racquet bags with matching designs. 
INNOVATION
ENHANCED ARCSABER FRAME
Control with confidence through this unique frame structure with varying levels of flex from top, sides, to bottom, built to increase shuttle hold while reducing instability and twisting at impact.
CONTROL-ASSIST BUMPER + POCKETING BOOSTER
The CONTROL-ASSIST BUMPER is a connected grommet attached at the top of the frame. This bumper contains T-ANCHOR, micro-sized tetrapods that lock onto the strings. By locking onto the strings, unwanted string movements are reduced to improve accuracy.

The top of the frame is lined with POCKETING BOOSTER*, a proprietary rubber-like material emphasizing elasticity in the frame's flex.
*PRO & TOUR models only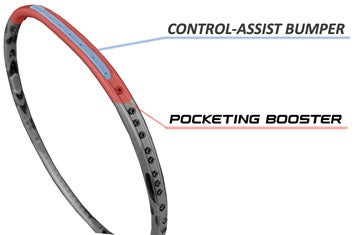 ISOMETRIC
The new ARCSABER 11 has an expanded ISOMETRIC face in comparison to the previous model. The expansion allows for a larger, more forgiving sweet spot.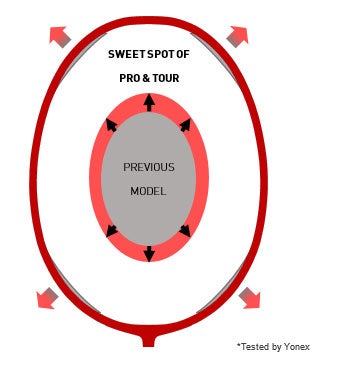 SPECIFICATIONS              
| | |
| --- | --- |
| Flex :    | Stiff |
| Frame:    | HM Graphite + POCKETING BOOSTER |
| Shaft:  | HM Graphite + SUPER HMG + ULTRA PE FIBER |
| Joint:   | New Built-in T-Joint, T-ANCHOR |
| Length: | 10 mm longer |
| Weight/Grip:  | 4U (Avg. 83g) G5 |
| Stringing Advice:  | 4U: 19 - 27 lbs |
| Recommended String: | Hard-hitters - NBG95 Control Player: BG66UM |
| Color: | Grayish Pearl |
| Made in: | Japan |
---
Love this racket!
Love this racket! I'm in love with this racket, Received it in 2 days after placing the order. First of all, I like it's look, red and grey colors make its look really good. I really liked the way it feels in your hand, was able to generate good power in my smashes. Very good racket from Yonex!
Choosing a selection results in a full page refresh.
Press the space key then arrow keys to make a selection.
Use left/right arrows to navigate the slideshow or swipe left/right if using a mobile device